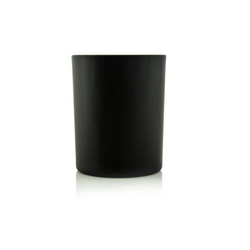 DeVotions By TAME
Midnight Collection - Fresh Scents
These candles are fresh scents and can make any area smell good. Great for your bathroom, kitchen, or a your small personal space. When you want to relax, rejuvenate, & recharge DeVotions By TAME has you covered. 
Cool As Ice – Deep masculine scent with the notes of lemon-lime, citrus, ambergris, moss, and woods.
Fresh Lemons - Fresh lemons with hints of bergamot, musk, and bright citrus.

Fresh Clean Linen - The scent of freshly washed linen with hints of cotton, ozone, jasmine powder, and musk.
The Midnight Collection vessels looks simple, but yet elegant at the same time. Simple is sometimes the best presentation. This collection is popular and have customers raving about the elegance, but yet economical. 
One wick 8 ounce candle. To maintain your candle please do not forget to care for your candle. Please see candle care for additional information. 
Burn time is approximately 35-40 hours
FREQUENTLY ASKED QUESTIONS
Where is DeVotions By TAME located? 
DeVotions By TAME is located in the Dallas Fort-Worth Area in the beautiful state of Texas.
How can I contact DeVotions By TAME Team?
Email:   contact@devotionsbytame.com
Call: 817-900-8633 / 888-320-0999
How Long will it take to receive the order?
Once you place your order, please allow 5-7 business days to process. Please remember each candle is hand-poured as ordered. It  may take up to 3-10 business days to get delivered once shipped. It is our goal to get your candle to you as quickly as possible.  More details on check out page.
What are the payments methods? 
We accepts all major credit cards (VISA, MASTERCARD, AMEX) and Paypal, Apple Pay payments.
What if items I received are defective or damaged?
Please contact us within 5 days from receiving the item. Also make sure to include order number, photographs of defective object, and all related references upon receiving a package. We will do our very best to resolve your case as soon as possible.
How long is the return process ?
Processing returns may take up to 5 business days from the day we receive your return. We will email you to confirm once your return has been processed.
Will the shipping fees be covered for my returns?
All returning shipping fees and other miscellaneous fees are the responsibility of the customer.
Use the form below if you have a question not listed above.
Let us know about any concerns or inquiries you may have, and we will contact you back as soon as our customer service team resolves your issue.  
Feel free to contact us by:
Phone: 817-900-8633
Toll Free: 888-320-0999
General questions: info@devotionsbytame.com

Inquires regarding orders: orders@devotionsbytame.com
Or use the form below to submit your inquiry.